November 15, 2019
Product launch
Kementec is now launching the Enhanced PLUS series of HRP conjugates. Based on a polymer technology, we have developed a series of conjugates, enabling up to 8-fold signal increase from conventional HRP conjugates.
Enhanced PLUS:
Streptavidin-HRP (cat. no. 7000N)
Sheep anti-Human-IgG-HRP (cat. no. 7010N)
Sheep anti-Mouse-IgG-HRP (cat. no. 7020N)
Goat anti-Rabbit-IgG-HRP (cat. no. 7030N)
Comparison between our own Enhanced Streptavidin-HRP (cat. no. 4740N), the new Enhanced PLUS Streptavidin-HRP and a conventional Steptavidin-HRP conjugate from a competitor.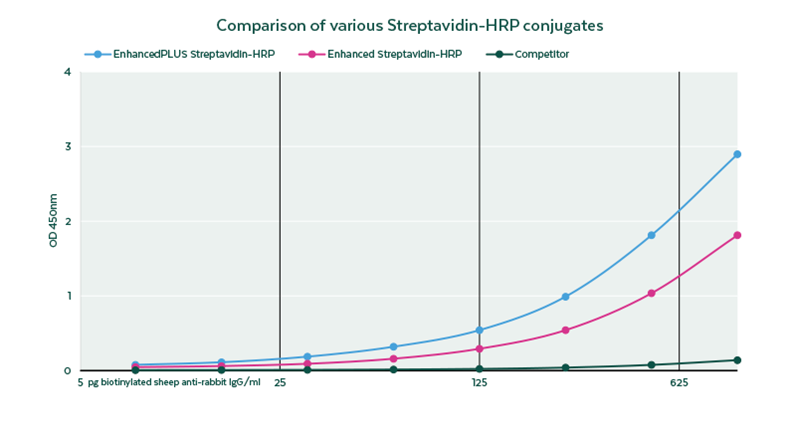 November 01, 2019
Local Mayor visits Kementec
This week we had a very special guest, as the Mayor of Taastrup Municipality, Michael Ziegler, came to visit Kementec.
We had the honor of showing Michael around, and introducing him to the process of creating eco-friendly immunoassay solutions and ECO-TEK® products, as well as how we continuously strive to contribute to a more sustainable life science industry – both locally and globally.
Topics such as sustainability, environmentally friendly innovation and development within the local society are some of the key issues at Taastrup Municipality, whereas we share common visions. This visit was a brilliant opportunity for us to share ideas and inspiration on how to create a greener, healthier and more innovative future together.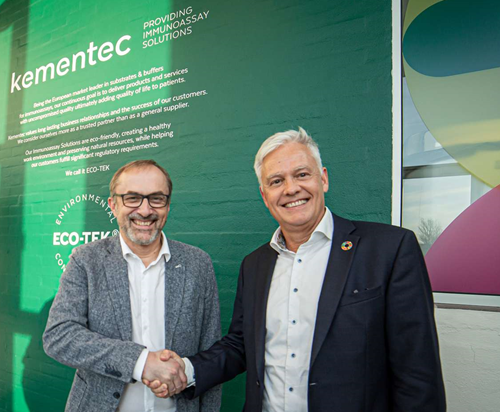 Photo Credits: SEES Media
October 24, 2019
The importance of the Danish life science industry
Kementec Solutions CEO, Henrik Christensen, met with Brian Mikkelsen, Managing Director of The Danish Chamber of Commerce. In his capacity of Chairman for the Danish diagnostic industry, Henrik Christensen had a chance to discuss the important future of the Danish life science industry.
October 10, 2019
Eco-friendly partnership with The University of Copenhagen
At Kementec we take great pride in operating in eco-friendly ways all throughout the process of research and development to the final product delivery. This is an essential part of our ECO-TEK® vision of reducing the environmental impact of the healthcare industry without compromising quality, stability and accuracy.
Therefor we are very proud to announce our new local partnership with The University of Copenhagen, Denmark. In order to reduce single use and unnecessary waste of ice packs, Kementec is now teaming up with the university by reusing these materials, and together we are contribuing to a more eco-friendly, sustainable life science industry.
The University of Copenhagen launched the "Green Campus 2020: A Strategy for Resource Efficiency and Sustainability", in 2016.
"With Copenhagen University's "Green Campus 2020 – Strategy", we strive to be resource-efficient and operate sustainably every day. Kementec's eco-friendly suggestion to re-use ice packs, that we otherwise discarded every day, was excellent – as these kind of initiatives, support us in achieving our goals for sustainability and resource efficiency."
Ditlev Jan-Finn Ditlevsen, Teamleader, Department of Immunology and Microbiology.
This ambition harmonizes beautifully with our ECO-TEK® visions at Kementec, whereas we are happy to join our forces by contributing to responsible consumption and production. This aspiration refers to one of the 17 Sustainable Development Goals set by the UN, leading the world to a more sustainable path.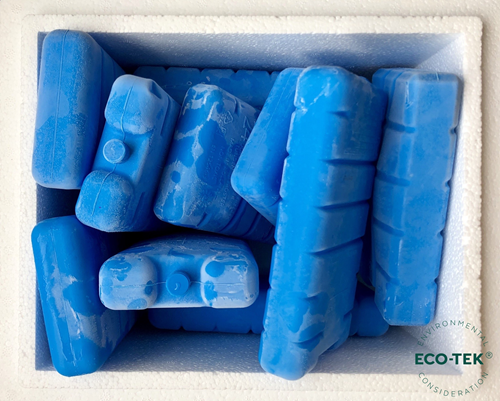 September 26, 2019
Kementec products at DiaLabXpo

Kementec's Immunoassay Solutions on display at DiaLabXpo from September 24-25 in Copenhagen. Our sister company, and Scandinavian distributor, Kem-En-Tec Nordic A/S is presenting all its offerings at the exhibition, and introducing our ECO-TEK products and eco-friendly immunoassay solutions.
Chairman of DiaLab and Kementec Solutions CEO, Henrik Christensen, was happy to open the show on Tuesday, by introducing the seminar that seeks to create future solutions, professional events and networking - all in the same place.
"It´s going to be three exciting days with interesting stakeholders, each contributing with their own strengths to ensure, that we will have a great event, not only offering products, but also sharing knowledge and inspiration" - Henrik Christensen.
DiaLabXpo is the perfect opportunity to get inspiration about new products, the latest trends within the Life Science industry, and to join interesting debates, workshops and lectures.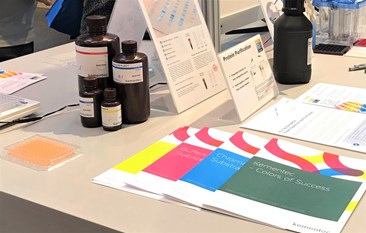 September 4, 2019
Kementec opens a North American site
Kementec is very excited to announce the opening of our US facilities in Amherst, New Hampshire.
As Kementec grows and the American customer-base develops, we are happy to be opening a North American site in order to serve our American customer in the best possible way.
From September 4, all of our American customers will be able to reach us locally, where we will continue to provide our eco-friendly immunoassay solutions.
The new site provides us with the opportunity to establish even closer long-term partnerships, through which we can continuously make sure to meet our customers' immunoassay needs. By doing so, this local site gives us an even better opportunity to be your partner all way – 360°.

April 9, 2019
Collaboration with DTU Chemistry
Innovative collaborations as a part of new product development is very important to Kementec. Therefore, Kementec is delighted to announce the initiation of collaboration with the Department of Chemistry at the Technical University of Denmark (DTU) that will take place over the next six months.
The collaboration is based on an Innobooster project from Innovation Fund Denmark, which has been granted to the parties in order to develop new and exciting technologies. "We are delighted to collaborate with Kementec regarding this innovative project. DTU values collaboration with industry very highly and are delighted to be able to contribute to projects that can generate results in the form of new knowledge and growth. Our focus is to develop useful and viable solutions with our collaboration partners, in order to meet specific challenges and need for innovation." - Mads H. Clausen, Professor at DTU Chemistry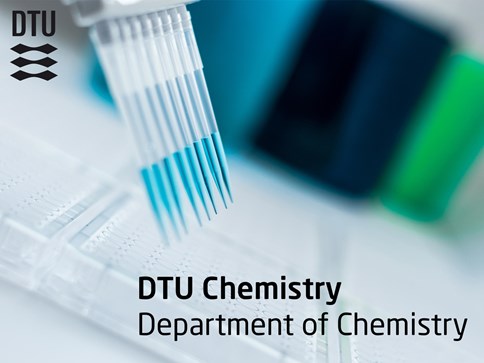 January 17, 2019
Kementec products contribute to Alzheimer research 
While Kementec products have long been recognized and appreciated by the manufacturing industry, developing innovative products that support new pioneering research has always been a Kementec priority. We are happy to see that the research industry still benefits from all our product lines. In this publication by A. Öhrfelt et al. in Neuroscience Kementec's TMB ONE Enhanced Streptavidin-HRP Conjugate and Uni-StabilPLUS contribute to the development of A Novel ELISA for the Measurement of Cerebrospinal Fluid SNAP-25 in Patients with Alzheimer's Disease. https://www.sciencedirect.com/science/article/pii/S0306452218307802