The Sustainable Partnership Program
A sustainable way of doing business: Kementec's Sustainable Partnership Program!
What is The Sustainable Partnership Program?
We have a goal to always strive for the best. We want to produce the best products possible and are always rethinking our priorities. For many years we have worked towards becoming more sustainable regarding our products, the production of our products, and within our everyday work life at Kementec, without compromising on the quality and performance of our products.
A collaboration has been started with several Danish universities on reusing ice packs. Upon receiving products shipped cooled, the ice packs are collected and kept until Kementec picks them up. At Kementec, they are reused when shipping our products. In that way, we extend the lifetime of the ice packs and reduce the waste of resources.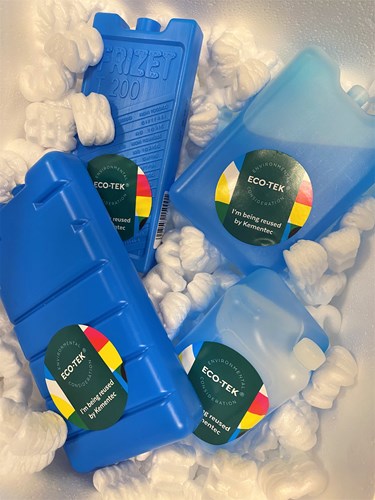 This has inspired us to expand our program, which is why we now introduce our Sustainable Partnership Program! The purpose of our program is to rethink sustainable business!
We are very excited about the feedback we have received and have a goal to expand the Sustainable Partnership Program to other Nordic countries that might be interested.
Why we care:
At Kementec we understand the importance of a sustainable business. For more than 30 years our goal has been to be one of the leading companies within the field of immunoassay development. Our company has evolved a lot through the years, and we look forward to continuing our journey in the future. Click here to read more about our business profile.  
Our environmental initiatives arose from our own visions and goals within the company but are also highly inspired by the Sustainable Development Goals set forth by the UN.
We are aware of our social responsibility which is why we offer our ECO-TEK products with focus on sustainable solutions. None of our ECO-TEK products contain BSA or organic solutions like NMP which is a great advantage and benefit for your business, as it contributes to an easy cross border and paperwork process, while simultaneously reducing regulatory concerns and adds to a healthier work environment for employees.
Want to join our Sustainable Partnership Program?
Please do not hesitate to reach out if you have any suggestions to other initiatives that can become a part of our program.  We need to rethink the way we do business and have both people and the planet in mind!
Join us on our journey by contacting us here.